Trondheim Airport Arrivals (TRD)
Not all flights may be showing. If not available use search above to find your flight by airline, airport or flight number.
Origin
Airline
Flight no.
Scheduled
Est./Actual
Status
No flight arrivals were found at Trondheim Airport.
Flight Arrivals at Trondheim Airport
The airport in Vaernes was first taken into use by the Royal Norwegian Army in 1887. However, it was not until 1914 that the first flight departure from the airport. Civilian flights started in 1951. At this time, half a barrack was taken into use as a terminal for the passengers. Today Trondheim Airport serves around 4,400,000 passengers each year. The passenger number is still increasing year by year.

The top domestic destination from Trondheim Airport in Vaernes is to Oslo. This route is operated by Norwegian Air Shuttle and served over 1,600,000 passengers in 2018. Other top European destinations include Bergen, Bodo, Copenhagen, Alesund, Amsterdam, Bronnoysund, Stavanger, and Mosjoen.
Trondheim Airport Ground Transportation
Trondheim Airport is located in the village of Vaernes, which is 12 miles/19 km east of Trondheim, in Nord-Trondelag County. From the airport, all passengers will have a broad selection of ground transportation services that can bring you to and from your further location.
Transfer to and from Trondheim Airport
All travelers to and from Trondheim Airport will find any transfer made really easy. All passengers have a various selection of transportation opportunities, including:
Trondheim Airport is located along European Route E6 and E14. The airports connect to Norwegian National Road 705 via a roundabout, which again connects with the E6 in a grade-separated intersection. It takes approximately 25 minutes to travel from Trondheim center to the airport.
The address of the TRD Airport can be found below:
Trondheim Airport, Vaernes
Stjordal, Nord Trondelag
N-7500
Norway.
If you have any questions or concerns you can contact Trondheim Airport by telephone on +47 815 30 5500.
Pick-up
All passengers at TRD Airport are asked to use the airport's designated pick up and drop off area when picking up or dropping off passengers. The parking lots at TRD Airport is a nice location that gives passengers direct access to the airport terminal within minutes. It can help save time before your next journey, or if you are going to pick up or drop off a passenger.
Travelers are asked to please use the short-term parking places for dropping off and picking up passengers. This parking lot can be used for a maximum of 4 hours, and the first 10 minutes is free of charge. You can find the short-term parking space on the first floor within the parking garage at the airport.
If you have any questions or concerns, you can always contact a member of staff at the airport on telephone number: +47 22 05 75 00.
Trondheim Airport - Special Needs Services
All travelers with special needs or reduced mobility are entitled to get special service at Trondheim Airport. At TRD Airport there will be assigned staff to help assist passengers with disabilities around the clock, every day of the year. Yet, please make sure that you make a relevant request at least 48 hours prior to the departure of your flight.
Once arriving at the airport you will meet the service assistance at your agreed meeting point. This will be arranged before your arrival at the airport. You can be met by a member of staff in the following places:
By train, bus, taxi or when you arrive by car
After check-in
By the gate (upon departure)
By the plane door or inside the plane (on arrival)
All the parking areas at Trondheim Airport offers parking spaces for disabled people. You will find them at the following locations:
Short-term parking garage: two places at the stairwell/exit and two places at the entrance/exit.
Long-term indoor parking: 9 parking places in a separate area right after the drive-in of the parking space.
Long-term roof outside: two parking places on the roof just by the lift room.
Comfort P-basement: one parking space by the lift room.
Was your flight delayed or cancelled?
You may be eligible to receive up to 600 EUR compensation per person in your party..
Claim Now!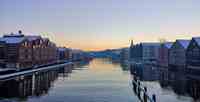 Things to see and do in and around the city of Trondheim, Norway