TRONDHEIM AIRPORT (TRD) INFORMATION
Origin
Airline
Flight no.
Scheduled
Est./Actual
Status
No flight arrivals were found at Trondheim Airport.
Destination
Airline
Flight no.
Scheduled
Est./Actual
Status
No flight departures were found at Trondheim Airport.
Car Hire at Trondheim Airport
UNBEATABLE VALUE CAR RENTAL
Free Amendments | Free Cancellations | No Card Fees




Trondheim Airport - All Information on Trondheim Airport (TRD) Trondheim Airport
Trondheim lufthavn Værnes, 7502 STJØRDAL, Norway
phone +47 67 03 00 00
phone+47 670 32 515 (Lost + Found)
emailservicesenter.vaernes@avinor.no
emailhittegods.vaernes@avinor.no (Lost+Found)
call_end+47 67 03 25 01 (fax)
Facts and History about Trondheim Airport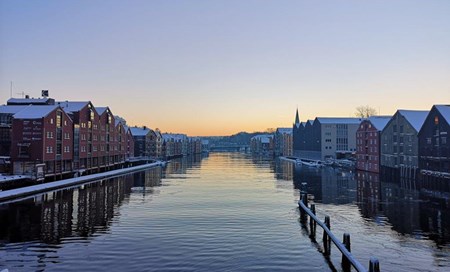 Trondheim Airport, also known as Trondheim Airport, Vaernes (Norwegian: Trondheim lufthavn, Værnes) is an international airport in Norway, serving Trondheim city and the surrounding area. The airport is located in the village of Vaernes, which is 12 miles/19 km east of Trondheim, in Nord-Trondelag County.
The official address of Trondheim Airport is Trondheim Airport, Vaernes, Stjordal, Nord Trondelag, N-7500, Norway. You can call a member of staff at the airport for any customer information at the telephone number: +47 815 30 5500.
Trondheim Airport carries the international airport code of TRD (IATA), ENVA (ICAO) and TRD (FAA LID). TRD Airport sits in a slightly elevated location just 56 feet/17 meters above sea level at 63°27′27″ N and 010°55′27″ E.
Trondheim Airport served 4,441,870 passengers in 2018 and had 58,273 air movements. This made TRD Airport the fourth busiest airport in Norway.
Arrivals and Departures at Trondheim Airport
The airport is serving both scheduled flight routes and charter flights from European cities during the year. Some of the biggest airlines at Trondheim Airport include Scandinavia Airlines (SAS), Norwegian Air Shuttle, and Wideroee. Scandinavia Airlines (SAS) operates the main route to Oslo. Other additional flight services offered by Scandinavia Airlines (SAS) involves Bergen, Aalesund, Copenhagen, Gran Canaria, Kristiansand, Stavanger, Stockholm–Arlanda, and Tromsoe. Furthermore, Norwegian Air Shuttle offers flight routes to and from Alicante, Bergen, Gdańsk, Kraków, London–Gatwick, Oslo–Gardermoen, Riga, and Tromsoe, as well as a number of seasonal flights.
Wideroee Airlines connects to airports in Aalesund, Bodoe, Broennoeysund, Harstad/Narvik, Kristiansand, Kristiansund, Mosjoeen, Namsos, Roervik, Sandefjord, and Sandnessjoeen.
In total, Trondheim serves 17 domestic and 21 international destinations, as well as 18 charter destinations.
The airport features two runways. The main east-west runway is 9,839/2,999 meters long, and a northwest-southeast runway that is 4,829 ft./1,472 meters long. Furthermore, the airport operates an integrated railway station and an airport hotel.
All passengers at TRD Airport will find one main passenger terminal, which is divided into Terminal A and Terminal B. Terminal A host domestic and regional flights, while Terminal B is serving international flights.
Terminal A is split into two levels, which include the arrivals area on the ground level, and the departures area on the upper level. Terminal B just has one single level for both arrivals and departures.
Trondheim Airport Ground Transportation
Transfer to and from Trondheim Airport
All travelers to and from Trondheim Airport will find any transfer made really easy. All passengers have a various selection of transportation opportunities, including:
Buses: You will find several bus services that can transfer you to and from the airport. The buses that operate from the airport include Flybussen, Vaernes-ekspressen Unibuss, and several local bus lines.
Trains: All travelers can take the NSB regional trains to Trondheim S station, which takes about 35 minutes.
Taxis: Passengers can find taxis outside the Arrivals Hall at Trondheim Airport. You can get to the city center in approximately 25 minutes.
Airport Shuttles: You will find several hotels and resorts, which offer a shuttle bus service at your disposal to get you to and from TRD Airport.
Car Rental Companies: All passengers can book a rental vehicle through one of the car rental companies that operate at Trondheim Airport.
Hotels near Trondheim Airport
There are a number of hotels to suit all budgets and requirements at or near Trondheim Airport.
Parking at Trondheim Airport
See options for parking services at Trondheim Airport.
Additional Services and Amenities at Trondheim Airport
At Trondheim Airport you will find the usual array of bars and restaurants, airport lounges and shops.
Things to do in Trondheim
There are a number of activities to suit all ages and interests in the region - see a selection of tourist activities in Trondheim, Norway.
Practical Information about Trondheim Airport
WiFi connection:
All travelers can enjoy free WiFi connection at Trondheim Airport in the terminal area including both sides of security. You will also be able to connect to the WiFi throughout the restaurant and retail areas.
When you want to activate the free WiFi, you simply have to follow a few easy steps. First, you set the wireless network to; AIRPORT WiFi. Then launch a web browser on your device where you will visit the welcome page. Select "Free". Please follow the instructions on the screen and you will be ready to surf around the internet.
Passengers can surf at no charge for up to four hours on the airport's WiFi network.
Smoking:
Smoking is not allowed anywhere inside the airport buildings at Trondheim Airport.
All passengers are only allowed to smoke in designated areas outside the terminal at the airport.
For all connecting flights, you will have to go through the arrivals area and enter Norway and smoke outside the terminal. Then you will need to go through Security again for your connecting flight.
Duty-Free shops:
All passengers can enjoy a great selection of duty-free products at Trondheim Airport. The broad assortment of products includes some of the world's most popular brands. There will be everything from cosmetics, fragrances, sweets, skin-care products, alcohol, and tobacco.
You can find one Duty-Free store at Trondheim Airport, which has customized opening hours according to airline departure times. For any questions or concerns, you can contact a member of staff on telephone number: +47 98 25 31 31.
If you would like to save some time while you are at the airport, you can pre-book your tax-free items. This can be done by pre-ordering your goods. You can then collect your items at the airport before departure.
You can contact the duty-free department on telephone number: +47 32 23 09 00. The office is open Monday to Friday from 8:00 am to 4:00 pm.
Lost and Found:
Did you lose anything while traveling through Trondheim Airport? Then you will have to report your lost items. If you have lost something within the public areas or ground transportation areas at TRD Airport, you can contact a member of staff on telephone number: +47 670 32 515.
The TRD airport stores lost items that are handed in for up to three months before they are transferred to the police's lost and found department.
If you need to report any lost items from an airplane, please contact that specific airline.
Trondheim Airport's website
If you need more information about Trondheim Airport, then you can always visit Trondheim Airport, Vaernes's official website here: https://avinor.no/en/airport/trondheim-airport/
Furthermore, if you have any questions or would like to get in contact with a member of the staff, you can contact the airport at telephone number: +47 815 30 5500.
Local Information
Local voltage and plug type:
In Norway, the main electricity supply is at 230 volts (50 Hz). Types C and F with 2 pins are the most frequently used electric plugs in the country.
What side of the road for driving?
In Norway, you have to drive on the right side of the road.
Services at Trondheim Airport
Useful Information about Trondheim Airport