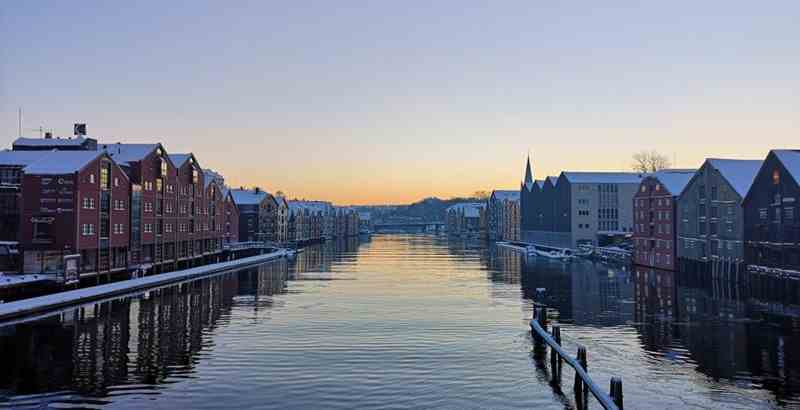 Trondheim Tourist Attractions
All travelers that arrive at Trondheim Airport in Vaernes, can find their way to Trondheim City Center within a 25 minutes' drive from the airport. In the heart of Trondheim, you will find yourself surrounded by gorgeous landscapes and a lively city environment. In this city, you will have the possibility to see and explore so many different sites and local attractions.
Below you will find inspiration to some different, entertaining, memorable and interesting tours you can enjoy together with your travel companion(s).
Trondheim like a Local: Customized Private Tour
Are you looking for an opportunity to see some of the exciting sites and attractions this city has to offer? However, you might prefer to avoid all the tourists in the city? Then this Trondheim like a Local tour should be just right for you. On this customized private tour you get to see and explore Trondheim City through the eyes of a passionate local. There is no specific itinerary planned. Rather you can customize the tour yourself or ask the local guide to present you to an insightful introduction to the city. This customized private tour will allow you to make travel about the people you meet not only the places you see.
All the local guides that are available for this tour are truly passionate about their city and enthusiastic to share their knowledge and perspective with you. The local guides are not professional guides wherefore they provide an experience that is much more authentic and personal than other guided tours. This will feel like a friend showing you around their city.
You can agree to meet with your guide in the neighborhood where you are staying. That gives you the chance to explore and learn more about this specific area. You will see where the best places to eat are located, the simplest ways to get around, and the hidden placed you might not have seen yet.
You will also learn about cultural differences, local happenings, and how it is to be a true local in Trondheim, through conversations with your guide. The tour can take between 2-6 hours. Please be aware that these tours will not be based on detailed historical facts as many other guided tours. Instead, the tours provide a general overview of Trondheim city including practical information from a local's perspective.
Note, if you would like to include a visit to a specific attraction, you would have to cover the cost of entry for the local guide as well.
Do not miss out on this unique chance to tailor your own, private tour of this beautiful and amazing city.
Trondheim: Guided City Walking Tour
This Guided City Walking Tour of Trondheim will provide you with a historical and cultural experience of the city. The tour will take approximately 2 hours where you will gain a lot of new information about this city, but also have a lot of fun.
You get to see Nidaros Cathedral, the Archbishop's Palace, the Old Town Bridge, and many more of the Trondheim's must-see sites along the way.
The tour will start with an introduction to the historic heart of Trondheim, with its broad cobbled streets and old alleys. You will get to explore the oldest street in Trondheim, which dates all the way back to the 9th century. Then you will visit St. Clemens Church that was built by St. Olav. He was later buried in this very same church before his body was moved to Nidaros.
Furthermore, you will discover the oldest hidden ancient engravings in Trondheim at Nidaros Cathedral. This is the largest Gothic cathedral in Northern Europe and has been a popular site for pilgrimage for longer than 500 years.
On the tour, you will also go by the picturesque Arch Bishop's Palace, which is the official home to the Archbishops of Nidaros until 1537. Then you will walk along the river and pass the barriers and the old defense fortress of Trondheim. There will be a short stop on Old Town Bridge from where you will have amazing photo opportunities. Finally, you will walk along the ancient streets of Bakklandet and through the historic neighborhood of Solsiden.
Your guide will then take you back to your starting point in the city center. Therefore, if you would like to know all the interesting and historical facts there is to know about Trondheim, this tour should be your pick.
Trondheim: Alternative Trondheim Walking Tour
This is a 3 hour alternative walking tour of Trondheim.
So what should you expect?
Well, while you will still be presented to the city's historical highlights, you also get to discover some of the cultural gems within this amazing city. You will meet your guide in front of the Tourist Information Office in Trondheim. This is located on Nordre gate 11, 7011 Trondheim, Norway. Your guide will be wearing a blue high visibility vest.
This is a very interesting tour where you get to soak in the history and culture of Trondheim. You get the chance to discover historical highlights including Nidaros Cathedral, which is Northern Europe's largest gothic cathedral. You will also visit Stiftesgaard summer palace and Vaar Frue Church. The tour will also take you to the Old Town Bridge, which is also known as the portal of happiness.
Explore Baklandet, which is a picture-perfect colorful wooden house. A sight not to miss. You can search the charming neighborhood of Solsiden, an area that was once known as the boat building heart of Trondheim. This has now been turned into the cultural center of the city.
Your tour will end with a visit to Svartlamin, which is one of Trondheim's best-kept secrets. Here you can learn more about this fully eco-friendly village including everything from culture, heritage, arts, crafts, gardens, to galleries.
This will without a doubt be a memorable tour! Furthermore, the tour gives you a chance to discover Trondheim in a way you have not seen before.
UNBEATABLE VALUE CAR RENTAL
FREE
Amendments,
FREE
Cancellations,
NO
card fees!

airport_shuttle Need Airport Transfers?
Useful Information about Trondheim Airport